Are You Ready to Allow More Abundance Into Your Life?
Dana Wilde can help you Train Your Brain about money, shift your limiting beliefs and allow more abundance into your life, 52 weeks a year!
Wouldn't it be fantastic to keep a positive focus about money week-in-and-week-out?  Imagine a new exercise every week that you can implement in under three minutes. Systematically shift your mindset and shift your outcomes!
Discover the powerful "income doubler" exercise.
Get access to 52 additional mindset-shifting exercises to help you change your limiting beliefs about money — one a week so you're training your brain all year long!
Easy-to-consume videos — only 3-5 minutes each week.
Easy-to-implement exercises!
Find out how to truly FEEL more abundance and allow more abundance into your life.
Includes the Discover and Shift Your Limiting Beliefs Toolkit for FREE!
… and much, much more!
If you are ready to learn HOW to let more abundance into your life, then this course is for you!  CLICK HERE to learn more and enroll.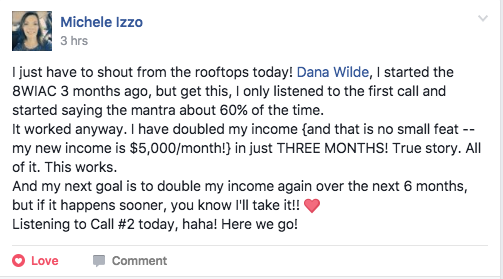 Ratings and Reviews