The Train Your Brain Formula for Getting Clients will reveal what it REALLY takes to get clients that pay and stay. Created for coaches, energy practitioners, and entrepreneurs in the personal development space, the videos here help you to understand why thinking positively is so important to building a business.
Even though this course was designed for entrepreneurs and the examples are for business owners, success in every arena of life comes from a positive mindset. And the techniques you learn here will help you in every area of your life.
Sometimes it can feel like we're the only ones standing in the way of our success, but The Train Your Brain Formula for Getting Clients gives you the tools that you need to get your mindset on board with your dreams When you start with a positive mindset, everything else in life is easier.
Dana Wilde has taught tens of thousands of people how to think positive and live productive lives and she can teach you too!
Learn more about this course and enroll HERE.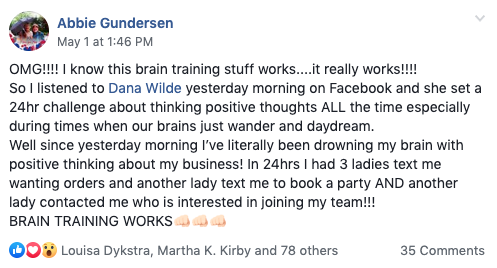 Train Your Brain Formula for Getting Clients Module 01
Train Your Brain Formula for Getting Clients Module 02
Train Your Brain Formula for Getting Clients Module 03
Train Your Brain Formula for Getting Clients Module 04
Train Your Brain Formula for Getting Clients Module 05
Train Your Brain Formula for Getting Clients Module 06
Train Your Brain Formula for Getting Clients Bonus Modules
Ratings and Reviews